Anchor text is the clickable text that users see as a link, and in the source code, is placed within the Anchor tag:

The <a> tag has 2 main parts:
The link referral location is a web address or, in other words, a URL of the page to which your users will go in the case they click on your link.
The Anchor text of the link is the clickable text which tells users and search engines something about the page you are linking to.
In the example below, you can see how the Anchor text can look in the source code and on the web page.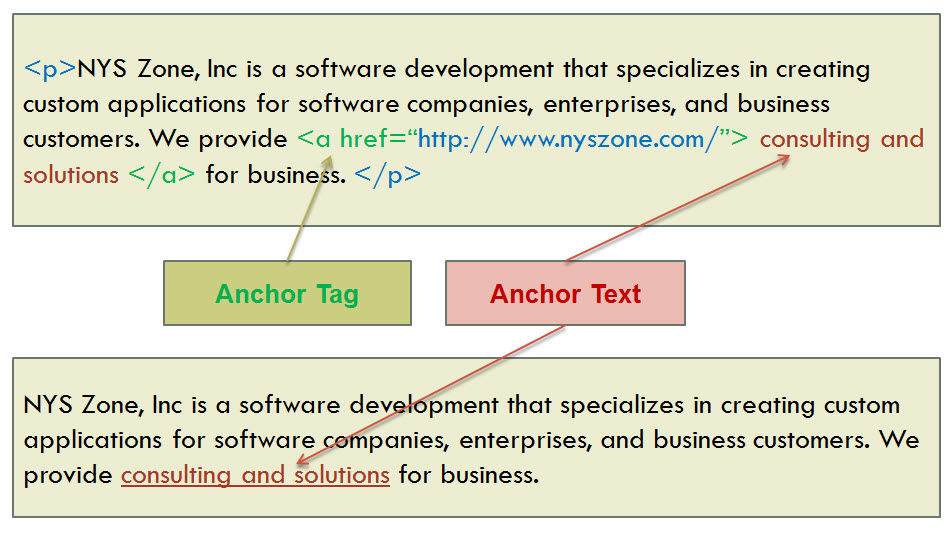 Within the <a> tag can also be placed the Anchor Title attribute of a link that can hold your keyword inside.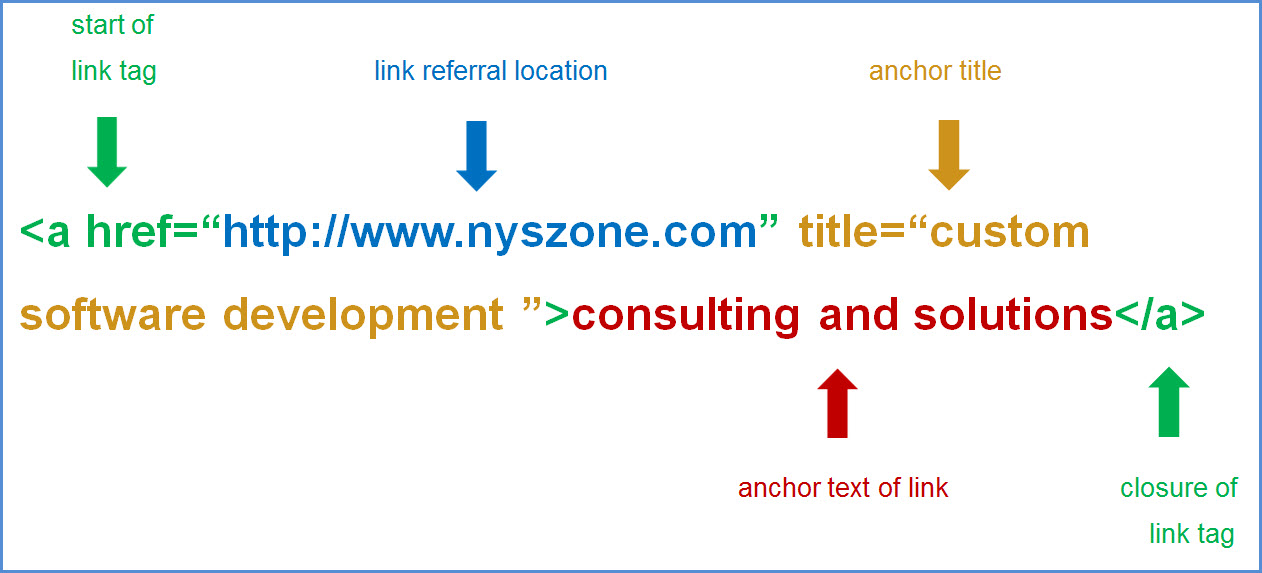 The Anchor Title helps people know more about the webpage you are pointing to as it contains information about the nature of the linked page.
You can have on your page two types of links:
Internal links send users to other pages on your website. Internal links help users to find relevant content they are reading on the current webpage and help search engines to understand your website's structure and importance and relevance of each page and search engine spiders to easier crawl your website. The number of internal links to the page indicates its importance relative to other pages on the site.
External links send users to content on other websites. External websites, especially social media sites, might use the title tag of a web page as its link anchor text.
You should create internal links to different pages within your site. External links are great for SEO, but it is also important to create a web of links that provide intuitive navigation throughout your website.
In both cases internal and external links, the better your anchor text is, the easier it is for users to navigate your website and for Google and other search engines to understand what the page you are linking to is about. Both users and search engines prefer anchor text that is easy to understand.
Some recommendations for writing better anchor text:
Write descriptive Anchor text.
The Anchor text you use for a link should provide at least a basic idea of what the page you are linking to is about. Search engines use the Anchor text to determine the subject of the linked document.
Avoid writing generic Anchor text. Generic Anchor text such as "click here", "go to", or "go here" will not tell both users and search engines what your linked pages are about.
Choose the most relevant words.
Linking to a relevant page is very important as link relevancy is a metric that is used for determining a page's ranking. SEO-friendly anchor text is succinct and relevant to the target page. The link relevancy is determined by the content of the Anchor text as well as by the content of the source page. If a number of links point to a page with the right keywords in their Anchor text, that page has a very good chance of ranking well. So, choose the most relevant words for your Anchor text.
Avoid using text that has no relation to the content of the page linked to. Users don't like to visit pages that are not relevant to the text of links they clicked on. If your Anchor text doesn't match the content of the linked page you are not truthful and as result, your website's bounce rate will increase.
Write concise text.
The anchor text should be short, but descriptive. Usually, a few words or a short phrase is enough.
Avoid using the long anchor text such as a lengthy sentence or a short paragraph of text.
Include keywords in your Anchor text.
The Anchor text should contain keywords that are relevant to the targeted search terms as it is an additional signal of the relevance to the linked page. Insert important keyword phrases in your natural text and link them to relevant pages of your website.
Avoid using Anchor text over-saturated with keywords. Do not focus on the keyword-heavy Anchor text as this may cause Google to consider that you use the manipulative methods and, as a result, to scrutinize the site's link profile more closely.
Use diversified Anchor texts.
Avoid having the same link within one page multiple times.
If you use the same Anchor text multiple times within the page or too many times within your website, it may be perceived by search engines as a signal of manipulation for this key phrase. It is recommended to use diversified Anchor texts that can describe the same thing. Moreover, try to use the keyword Anchor text only once, linking to the most relevant and important page for that particular piece of content.
Write as naturally as possible.
You should write naturally not only your web content but your Anchor text within your content too. Your links should sound natural. If you incorporate your Anchor text without over-saturating, users will enjoy reading your pages and become your clients.
Avoid placing the anchor text that sounds stilted and forced in your content as this is a bad signal to users and Google. Your anchor text needs to be perfectly natural in your sentences.
Some additional cautions of the links using:
Create links so they are easy to spot.
Make it easy for users to distinguish between regular text and the anchor text of your links.
Avoid:
using the text styling that makes links look like regular text.
You should catch the users' eyes if you want them to go to more specific content on your website.
creating unnecessary links;
Be sure that you use the right amount of links on your website and don't have an overabundance of links.
using only image links or too many images for links when text links could serve the same purpose;
having broken links on your pages as your links are used for assessing a page.
All the time when you are creating your links remember that the better your Anchor text is the easier it is for users to navigate your website and the higher your website might be ranked by search engines.
Back to
Search Engine Optimization Strategy