"Keyword", which might be a single word or phrase, is a term that is referred to the word(s) people use when they search on the Internet. Therefore, one of the most important tasks of attracting traffic to the website is choosing the right keywords. Well-chosen keywords have more potential to attract traffic to the website and as a result, reach more customers. Google's technology scans the content and web address of a webpage and displays it in its search results if the user's search query closely matches the subject or web address of the page.
Keyword optimization includes researching, analyzing, and using keywords with the purpose to drive qualified traffic to your website from search engines. In the next article, we will talk about keyword research tools, and now a few words about using your keywords.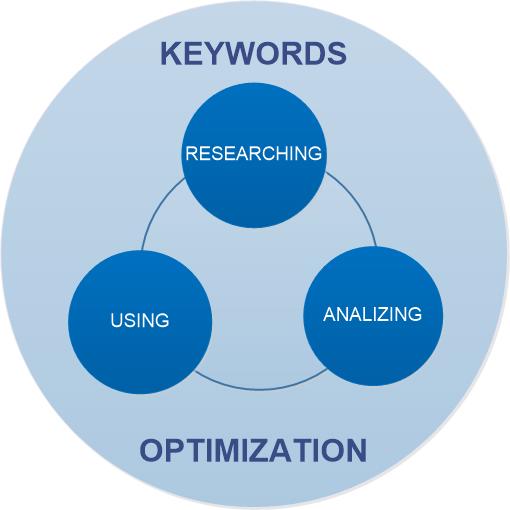 Some recommendations for using the keywords to optimize your webpage:
Select the right keywords.
When you are choosing keywords, you must consider three main things:
your keywords should accurately describe your webpage's content;
your keywords should be the words that your potential customers use when they are searching online;
your keywords should not be found on millions of other web pages.
The more specific keyword phrase you can use the better chances your page has to be ranking highly in search results for that phrase. This is especially important if you have a business in a highly competitive field.

Focus on one keyword per page.
But, if your page ranks for several keywords, it may be an additional signal for Google about your webpage quality.

Use common variations and spelling of your keywords.
If your keywords have common variations or/and spelling such as "webpage" and "web page" or "color" and "colour ", use all of them along with your main keyword.

Use long tail keywords.
Now, Google Hummingbird welcomes long tail keywords, and people generally use their online search the long tail keywords. One-two words keywords are too generic, and if you want your website will be shown to your specific audience, you should use more long keywords that are closely related to what you are advertising. The more relevant and specific your keywords are to what someone might search for, the more likely your website will be interesting to your potential customers.

Optimize the multiple words keyword phrases.
Determine relative traffic levels for different orders of the words in your keyword phrases. Along with your experience and intuition, you can use the Google AdWords' Keyword Planner to see the traffic estimates for a precise phrase order.

Use the higher traffic phrase as the priority, but optimize your page for the different phrase ordering.

Determine your keywords hierarchy.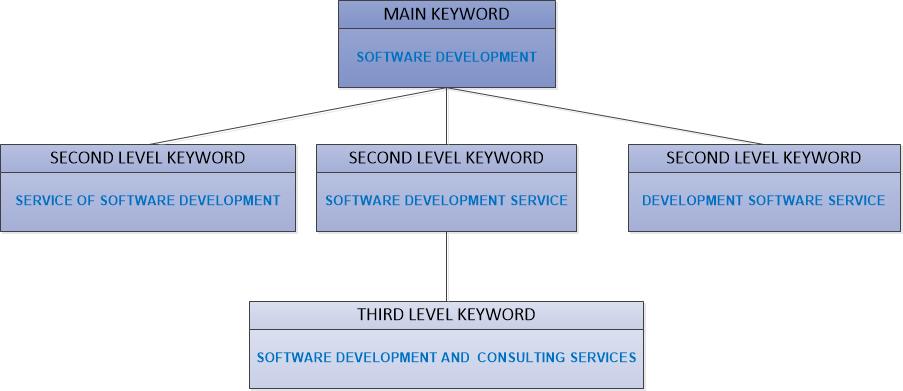 Not all keyword phrases you are going to use are popular in the same way between users and your competitors. Determine your main keywords, for example, 5 keyword phrases (such as "software development") that are mostly used by searchers. Each website owner in your business field competes with you on search engines by these keywords, and it might be too difficult to have a great result in rankings for the main keywords.
Determine the second level of your keywords; the next, for example, 5 keyword phrases that include your main keywords as their part (such as "software development service"). You might have a better ranking for your second-level keywords than for the first one.
You might have a few keyword levels.

Control your keyword density.
Regardless of the fact that "keyword density can be used as a factor in determining whether a web page is relevant to a specified keyword or keyword phrase"1, do not have a high percentage of the keyword phrase within your text. There are many different keyword density tools on the market, but no single opinion about the keyword frequency. It is known only one thing, namely the high keyword density with the aggressive repetition within content increases the likelihood that the page may get filtered by search engines.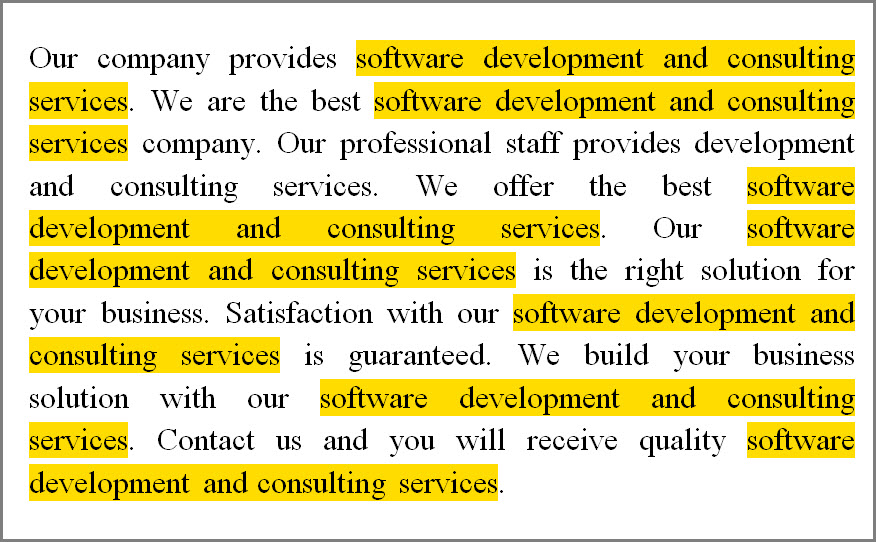 Avoid
keyword stuffing; write your page content naturally using a wide variety of synonyms and related words.
Use all possible placements to include your keywords.
Your keywords are a relevancy signal for Google and other search engines; therefore you should include your keywords or keywords phrases in all helpful placements such as tag, anchor text, and others. Below you can see your web page attributes the keyword presence which might be helpful for your page's ranking.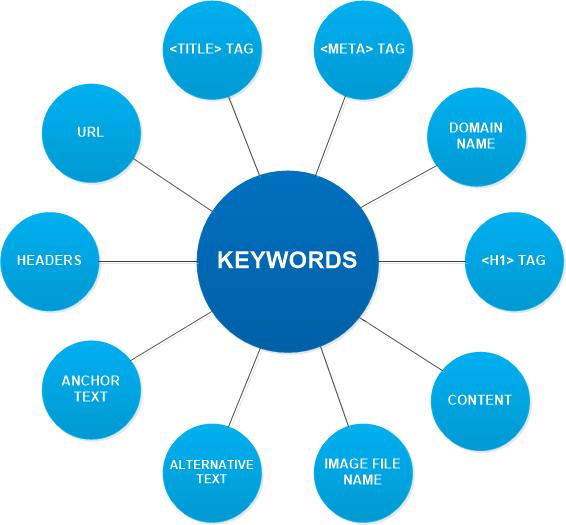 Below you can read a little more about each keyword placement.

Include keywords in your content.
Google shows your website your potential customers when they are looking for what you offer and if your keywords are relevant to the terms people use when they search. Think which words users might use to find a piece of your content. Include those words in your text; moreover, your keywords should appear more than any other words, in this case, they will work as a relevancy signal. At the same time, your content needs to sound natural and be pleasing to readers.
Avoid having numerous unnecessary keywords in your content. Your keyword phrase should be used so it is enough to recognize it as the page's topic, but not appears gratuitous or unnatural so your website's users notice that. Using manipulation with keywords for attracting search engines, gives poor quality content that is not interesting to readers.

Include your page's keyword to the page's title and Title tag.

As you know, the title tag is an important webpage attribute as well as an aspect of search engine optimization because it tells search engines what the topic of a particular webpage is. Therefore, include your keywords in your pages' title tags. Moreover, place your keyword at the beginning of the title tag. Remember that each title tag should be unique and in the right way describe the corresponding page.
In the same way, as the title tag tells search engines, the page's title tells users what the topic of the current page is. Thus, already from your page's title users know whether the current page is about what they are searching for or not.

Include your page's keyword to the page's description Meta tag.
The description Meta tag gives search engines a summary of what the current page is about, and having the keyword phrase in the Meta tag is an additional relevancy signal.

Avoid keyword abuse in your Meta tags as in this case search engines may stop taking your Meta tag into account when determining your page ranking.

Include the keyword to your domain name.
Choosing a successful domain name for your website is very important. There are different ways; you can take a brandable domain name such as ezibeline.com as well as a strict keyword domain name, for example, chocolate.com. "Which one from the brandable and keyword domain names is better?" still be a disputed question. However, everybody in the search marketing community agrees that a domain name needs to be short, easily spelled, recognizable, and memorable. It is a big edge if your domain name includes and even better, starts with the keyword or keyword phrase you are targeting. At the same time, it might be difficult to rank a generic, competitive keyword domain name such as chocolate.com.

Include your page's keyword to the page's URL.
It is difficult and sometimes may be impossible to select a domain name that will be both brandable and keyword. You need to make the decision on which one is right for you and your business. But, you can and should include your page's keyword in your page's long URL. For example, this page is about the keywords' role in the SEO and, as you see, the current page's URL is www.ezibeline.com/seo-keywords.html.
Include your page's keyword in the H1 tag.
The H1 tag like a title tag sends to search engines a relevancy signal; therefore, it is important that your keyword appears in the H1 tag.
Avoid keyword abuse in your H1 tags.

Include your page's keyword in the headers.
Definitely, the H1 tag defines the most important heading on the page. However, search engines pay attention not only to the words in the H1 tag but in other headers too because they help to understand a website better and to find content on the website that is more relevant to the user's search query. So, having keywords in the H2 and H3 tags may be an additional relevancy signal.
Avoid stuffing keywords into your headers.

Include the keyword to your image's file name and alternative text.
Your images need to have descriptive filenames and alternative texts. Certainly, more preferable are the file name and alt text which you want the image to rank for.
Avoid keyword stuffing in your alt texts.
Include the keyword in your anchor text.
Having a keyword phrase along with other words in your anchor texts related to the connected page and the occasional anchor text that matches the destination URL exactly can contribute to the positive result.
Avoid having thousands of spammy links with keyword-rich and exactly match anchor texts.

Check whether your keywords are working.
You can use free tools such as Google Analytics, Google Webmaster and Bing Webmaster Tools, and others to monitor the performance of your current keywords. If your chosen keywords are not working well, try to use other similar descriptions, synonyms, and related terms, in your keyword phrases.

Do not attempt to gain traffic for keywords not relevant to your website.

Your keywords make it possible for users to find your website. In other words, keywords are one of the search engine optimization components that help your website rank above your competitors. However, it is difficult to have a high ranking for competitive keywords, so your keywords should be a part not only of your SEO but of your global ongoing online marketing campaign that takes into consideration many aspects, including your business's goals and your customers' needs. You should also pay attention to your competitors' activities in optimizing their websites for search engines.

References:

1. "Keyword density" Wikipedia: The Free Encyclopedia. 27 September 2015. 13 January 2016 < https://en.wikipedia.org/wiki/Keyword_density >
Back to
Search Engine Optimization Strategy