What Can You See in a Search Result?
Before talking about search engine optimization of your website, you should understand what you can see on the Google Search results page, namely in its search results section. Each search result contains a title, URL, and snippet.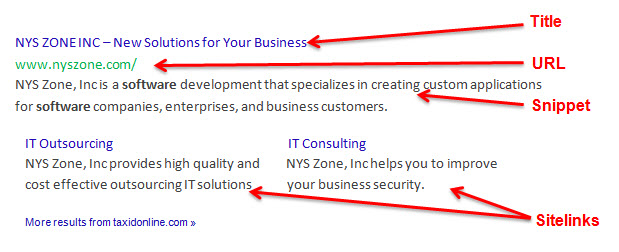 Title
The first blue line of any search result is the Title of the webpage. To go to the site, you should click on the title.
URL
Below the Title, there is a URL in green color. The URL (Uniform Resource Locator) specifies the location of the particular webpage on the Web. In other words, the URL is the web address of the page. Words in the URL are bolded if they are present in the user's search query.
Snippet
Under the URL is a Snippet – a short description of the webpage. Words that are present in the user's search query are bolded to help users make a decision whether the current page is about what they are looking for.
Sitelinks
Some search results have Sitelinks that are links to the website pages which appear under the main search result. Sitelinks help users navigate the current website and find content on the site that they are interested in faster.
References:
1. "Google search results page." Google: Search Help. 30 May 2015
<https://support.google.com/websearch/answer/35891?hl=en#results>
2. Ríona MacNamara. "The anatomy of a search result." Google: Webmaster Central Blog. 27 Nov. 2007. 30 May 2015
< http://googlewebmastercentral.blogspot.com/2007/11/anatomy-of-search-result.html>
Back to
Search Engine Optimization Strategy